What is Lineage OS, and why bother with it?
LineageOS is the official follow-up to the popular CyanogenMod ROM. It is based on AOSP (Android Open Source Project) and includes additional custom features, optimizations, and fixes. It is known for being stable and having good performance and battery life. LineageOS also places a strong emphasis on security and privacy. Many people like LineageOS, which is often seen as the most dependable and secure ROM available.
Lineage OS vs. other custom ROMs
Lineage OS is highly reliable, with a good performance and battery life balance. It has a low incidence of bugs and a wide range of devices with considerable user base support.
Customization is excellent, but it's limited. For customizations, see – Gravity Box. It's the Android experience as it should be. It also supports all security features, unlike some other ROMs that don't support all security features.
1. Open-source & Community-driven
Because Lineage OS is a free and open-source project, anyone can contribute to its development. While some proprietary OEM blobs are required to operate the device, you can still download and use Lineage OS for free. In addition, you can view and modify the source code or contribute to the development of the ROM.
2. Updates & Latest Android version
If your device's manufacturer stops providing updates or takes a long time to do so, the Lineage OS community will continue to provide updates. Security vulnerabilities are also regularly patched. You can keep your device updated for another two years even if the manufacturer stops updating it.
Lineage OS builds are standardized to ensure that essential hardware functions, like Wi-Fi, Bluetooth, GPS, camera, and NFC, will continue to work after replacing the factory-installed software.
Lineage OS maintainers regularly add the latest fixes to the Linux kernel for the device with each monthly Android Security Bulletin, even if the manufacturer stops updating closed-source components. SELinux is consistently enforced on official versions to improve security.
When you download and install a Lineage OS build from the official website, you can trust that the build server signs it and not by any other party, ensuring that no single developer is altering the builds.
3. Improved security and LOS Privacy Guard
Lineage OS includes security features like SELinux enforcing mode and regular security updates to protect your device from vulnerabilities and threats. Privacy Guard is a feature that lets you control app permissions on your device to protect your privacy and security. It also has advanced controls for app permissions and works without rooting or using ADB commands. If you use an app with banned permissions, Privacy Guard will notify you and warn you to re-enable specific permissions if the app is not working correctly. You can activate and manage Privacy Guard notifications in the settings and disable apps that start automatically.
4. No Botnet / No Bloatware
Carrier images may include "bloat" that the user dislikes. Lineage has only the essential apps. LOS has reduced bloat compared to the other stock-like ROMs. (There is no PlayStore, but you can always use Aurora from Fdroid) or if you insist, flash the official Lineage Gapps.
Browser, Messaging, Email, Calculator, Calendar, Camera, Clock, Gallery, Music, Recorder (screen & sound), and Files Explorer are just a handful of the entire programs that may be used straight out of the box.
5. Root + Superuser
Root gives you access to features that you wouldn't ordinarily have. Each app on Android operates in an individual sandbox. It won't be able to access data from other apps until you permit it (via root or storage permission).
The root might be global or specific to an app. "At the app level," I propose since, in this situation, each program that requires root access will ask for it. You'll have more control over which programs utilize root this way.
Furthermore, if you genuinely don't like it, LineageOS offers a Superuser-remover feature that restores everything to normal. I suggest using Lineage OS with Magisk for easy root and the best results.
6. Better Memory Management
The RAM acts just like the memory on the modern Linux distros. It shows the total RAM while caching your important application's data. You can load the applications you most often use with lightspeed.
7. Better battery life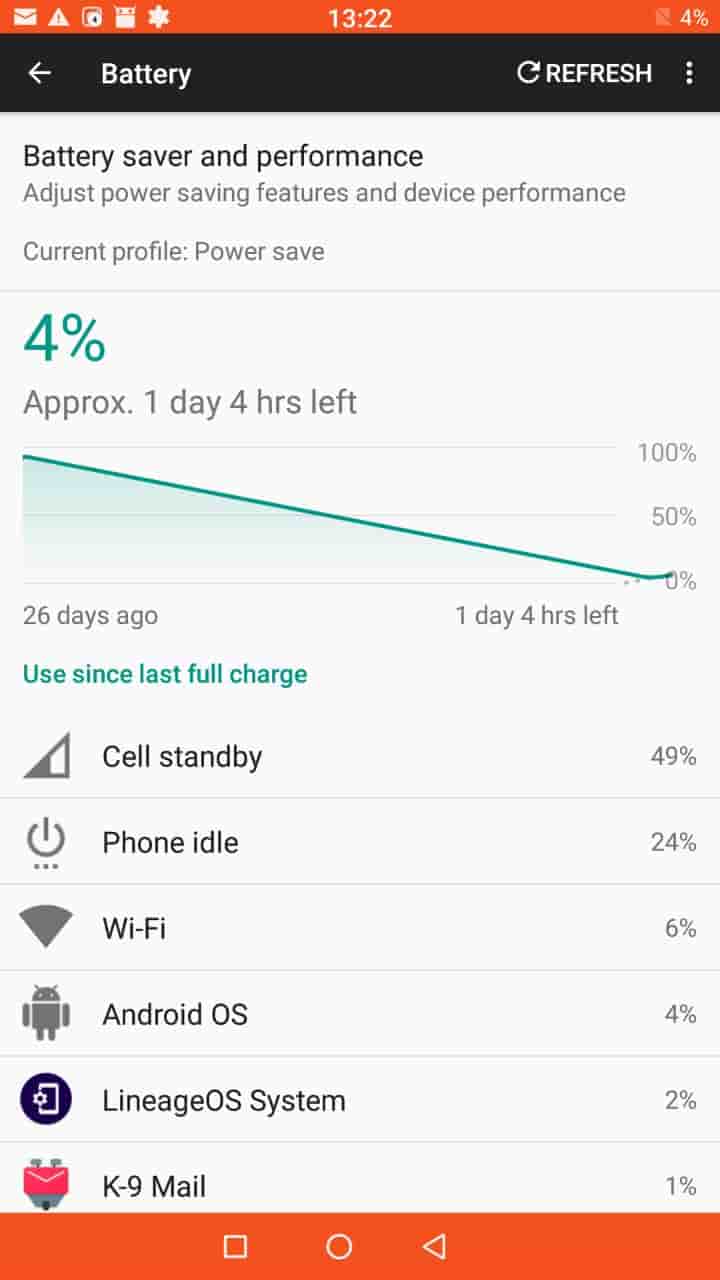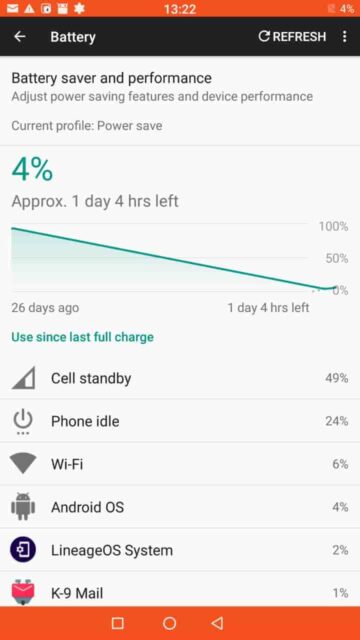 Here is a screenshot of my Lenovo P2 with Lineage OS in standby mode. The battery makes it for an entire month if I'm not using the phone. I can't be happier with a 5100mah battery. You can achieve similar battery life results if you don't use Gapps. This device has only F-droid and open-source applications installed.
8. Lineage OS Stability
The internet community around Lineage OS swears it's the most reliable and clean ROM. For the last seven years, I have been an active user of LOS.
I want to be honest and share my experience with the ROM. While this can be true, I can tell you that their official device support list has nightly, stable builds from which the regular releases are rock solid.
Porting LOS to another device can result in many odd problems and instability. The same goes for using unofficial ROMs made by third-party developers without legacy support.
9. Customization options
Lineage OS allows you to customize various aspects of your device, such as the user interface's appearance, the navigation buttons' behavior, and the settings of various system features. You can also install multiple mods and tweaks to customize your device further.
10. Community support
Lineage OS has a large and active community of developers and users, which means you can find help and support if you encounter any issues with the ROM. Many online resources and tutorials are available online and on the official website to guide you through installation.
11. No manufacturer restrictions
Lineage OS allows you to remove any pre-installed manufacturer-imposed restrictions or bloatware from your device. Installing Lineage OS allows you more control over your device and customizes it to suit your needs and preferences.
12. Security and Privacy
Lineage OS includes features like Privacy Guard and regular security updates to prioritize security and privacy. This design helps you feel confident that your device is secure and that your personal information is protected.
13.No advertisements or 3rd party apps
Lineage OS has no advertisements, so you won't see ads while using your device. That's why your experience will be more pleasant, distraction-free, and enjoyable.
14. More control
Installing Lineage OS gives you more control over your device and its features, allowing you to fine-tune your device's performance and behavior to suit your needs and preferences.
15. Optional Play Store and Google Services
There is the possibility of installing an additional GApps package or not, instead of having Google apps & Play Store forced on you like in traditional ROMs. With that said, I still prefer using F-Droid, where you can find tons of lighter, clean, and open-source apps such as Aurora Store if you need any apps on the Google Play store.
16. Better compatibility with third-party apps
Some custom ROMs may not be fully compatible with certain apps or services, which can cause issues when using them on your device. Designed to be compatible with many apps and services, Lineage OS makes it easier to use your device with the apps you need.
17. Customizable boot animation
Lineage OS allows you to customize the boot animation displayed when your device starts up. Here is an opportunity to personalize your device and make it feel unique.
18. Improved audio quality
Some users have reported that Lineage OS can improve the audio quality on their devices, mainly when using headphones. If you're an audiophile or want your device's best sound quality, this could be a benefit to consider.
19. Easy to install
You can easily install Lineage OS using a custom recovery like TWRP or the official LOS recovery. Clear instructions and tutorials are available online to help you through the process.
Update: 06.03.2023
I recently made this Lineage OS device list that might help you select the best device for your needs. It includes all technical information about each LOS device and has an easy way to sort through them. Feel free to add your phone to the list if the device is missing.