What is Lineage OS, and why bother with it?
LineageOS is the official successor to CyanogenMod's famous CyanogenMod. It's essentially AOSP with a few custom features including a few tweaks as well as a slew of optimizations and fixes.
The ROM never crashed on any of my devices, and it has excellent performance and battery life. Security and privacy are also crucial to Lineage. LOS has been my go-to since I first started using Android devices. LineageOS is well-liked by all, and it is widely regarded as the most reliable and secure ROM available.
Lineage OS vs other custom ROMs
LOS is the most dependable. It achieves a good balance of performance and battery life. There aren't many bugs. It has the most device support and the largest user base.
Customization is excellent, but it's limited. For customizations, see – Gravity Box. It's the Android experience as it should be. It also supports all security features, unlike some other ROMs that don't support all security features.
1. Open-source & Community-driven
Lineage OS is an entirely free and open-source project to which every developer can contribute. Except for the proprietary OEM blobs required to allow the device to operate.
2. Updates & Latest Android version
When carriers stop providing updates for older devices or take a long time to do so. The Lineage continues to provide updates. Patches for security vulnerabilities are updated regularly.
You can keep your device up to date for another two years even if the company stops updating.
Official LineageOS builds, unlike many other aftermarket software, are standardized to a Device Support Requirements charter. It assures that after replacing the factory-installed software with LineageOS, all crucial hardware functions (such as Wi-Fi, Bluetooth, GPS, Camera, NFC, and others) will continue to work.
LineageOS maintainers continue to add the newest fixes to the Linux kernel corresponding to the device with each monthly Android Security Bulletin, even if OEMs discontinue upgrading the closed source vendor components. On official variations, SELinux is always set to enforce to seal the deal on security.
When you download and install a LineageOS build from lineageos.org, you can be confident that it is cryptographically signed by their build server and not by anybody else, ensuring that no one developer is interfering with builds.
3. LOS Privacy Guard
Privacy Guard allows you to choose which rights existing applications have access to and which permissions new apps are given by default. This way, it's up to you to determine whether an app should access your location, contacts, and other personal information while still using it. This is predicated on Google's removal of access to an Android feature called App Ops.
When you use an app with banned permissions, Privacy Guard sends you a notice. This notice warns you that you may need to re-enable certain permissions if an app isn't operating correctly. You may activate Privacy Guard and manage notifications by going to Settings > Privacy > Privacy Guard. You can disable apps that autostart.
Advanced app permissions control is included in Privacy Guard, including the ability to permit or deny start at boot, operate in the background, and more. Privacy Guard works straight out of the box without rooting or using ADB permission commands as in typical ROMs.
4. No Botnet / No Bloatware
Carrier images may include "bloat" that the user dislikes. Lineage has only the essential apps. Bloat is reduced in other stock-like ROMs. (There is no PlayStore, but you can always use Aurora from Fdroid) or if you insist, flash the official Lineage Gapps.
Browser, Messaging, Email, Calculator, Calendar, Camera, Clock, Gallery, Music, Recorder (screen & sound), and Files Explorer are just a handful of the fundamental programs that may be used straight out of the box.
5. Root + Superuser
Root gives you access to features that you wouldn't ordinarily have. Each app on Android operates in an individual sandbox. It won't be able to access data from other apps until you permit it (via root or storage permission).
The root might be global or specific to an app. "At the app level," I propose since, in this situation, each program that requires root access will ask for it. You'll have more control over which programs utilize root this way.
Furthermore, if you genuinely don't like it, LineageOS offers a Superuser-remover feature that restores everything to normal. I suggest using Lineage OS with Magisk for easy root and best results.
6. Better Memory Management
The RAM acts just like the memory on the modern Linux distros. It shows that the RAM is full while caching your important application's data. You can load the applications you most often use with lightspeed.
7. Better battery life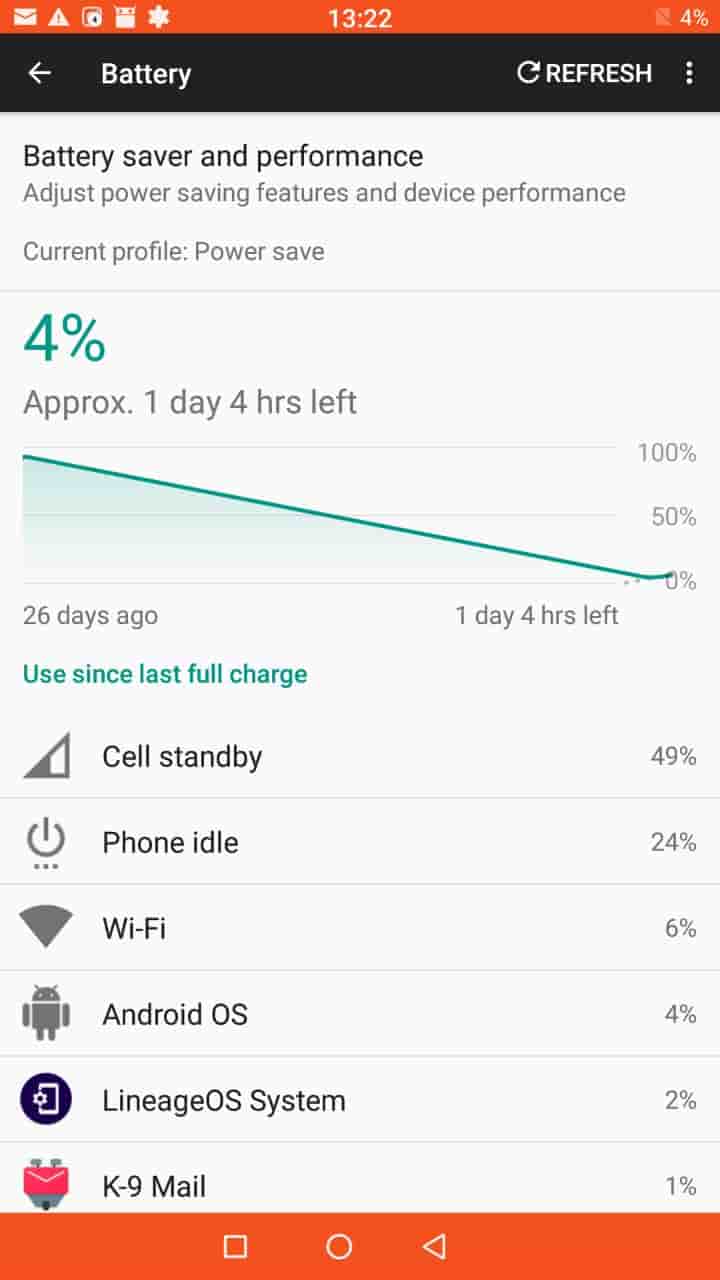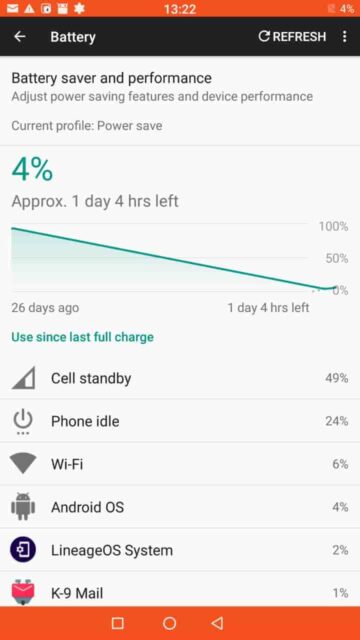 Here is a screenshot of my Lenovo P2 with Lineage OS in standby mode. The battery makes it for an entire month if I'm not using the phone. I can't be happier with a 5100mah battery. You can achieve similar battery life results if you don't use Gapps. This device has only F-droid and open source applications installed.
8. Mining LOS Coin
In other words – an intelligent sense of humour from the developers. Google more to find out.
9. Lineage OS Stability
The internet community around Lineage OS swears that it's the most reliable and clean ROM out there. For the last seven years, I have been an active user of LOS.
I want to be honest with you and share my personal experience with the ROM. While this can be true, I can tell you that their official device support list has nightly, stable builds from which the regular releases are rock solid.
Porting LOS to another device can result in many odd problems and instability. The same goes for using unofficial ROMs made by third-party developers without legacy support.
10. Optional Play Store and Google Services
There is the possibility of installing an additional GApps package or not, instead of having Google apps & Play Store forced on you like in traditional ROMs. With that said, I still prefer using F-Droid, where you can find tons of lighter, clean and open-source apps such as Aurora Store if you absolutely need any of the apps on the Google Play store.